Here's a history lesson, just so you know where I'm coming from:
(…though feel free to jump right to modern day, or you can read about my professional stuff…)
As a kid, I was an outcast. In addition to being fat, which was certainly enough fodder for the bullies in and of itself, I chose to stand out from the crowd even more with my unfortunate penchant for electric blue eye-shadow and crimson lipstick. I definitely didn't get my lack of perfection, or lack of style, from my gorgeous mother.
But, though my mother was indisputably slender and beautiful, she was never satisfied with her weight. She certainly wasn't satisfied with mine. Not unintentionally, she brought me along to her Weight Watchers meetings, her NutriSystem appointments, and her Jenny Craig weigh-ins. While desperately trying to shed those dastardly five pounds and get back to her desirable 120, she undoubtedly was hoping that her discipline would rub off on me. The employees would eyeball my mom, and then her chubby kid. They'd glare at me, sport a big fake smile, and – in a slightly heightened New Jersey accent – ask what my favorite food was. "Cheez-Its," I'd say, and they'd nod – ah, that makes sense…
My mother encouraged me to trade in my Oreos for pre-packaged Weight Watchers brownies; then, when that didn't work, to toss the brownies (eating three of them at one sitting probably wasn't ideal) and get a food diary; then, to drop my still-blank food diary in favor of the herbal version of the weight loss drug, Fen-Phen.
None of it worked. My love of cheddar, and my obsession with milk chocolate, was simply too strong, and despite Mom's efforts, the grub always won. Food offered me something I found nowhere else. I basked in the safe reassurance of my mealtimes, in the calm friendship I shared with snacks. I lived for the sweet tingling of a vanilla shake as it slid down my throat, filling up my stomach and my heart.
I was, in fact, addicted to food – physically and emotionally. And no wonder. The foods I regularly ate growing up – Cheez-Its, Lunchables, Twinkies, Big Macs – were literally designed to slide down my gullet easy as pie, making me want more and more and more.
It is therefore unsurprising that when, at 19, I decided that vegetarianism fit my image, my love affair with greasy, rich foods grew deeper. Countering all the myths about vegetarians being svelte and slight, I took the opposite approach entirely – my weight steadfastly climbing with each omelet and pizza that I devoured.
When I was 24, and employed as an actor/educator with an AIDS-awareness theatre company, a friend of mine showed me some footage of factory farming. Noticing the irony in the fact that I spent my days speaking up for those who are misunderstood and unfairly maligned – and learning about the ways animals are treated in the dairy and egg industries – I decided to trade in my cows' milk for soy, and my omelet for tofu scramble.
As a new vegan, my first order of business was to identify the non-dairy cheeses and ice creams on the market that were as delectable as "the real thing." I was pleasantly surprised to learn that – like all vegan alternatives to animal-based foods – these replacements existed, and (after weeding through some bad eggs, so to speak), these vegan versions were scrumptious.
Shocking my family, my veganism caused me to gain even more weight. Whoever said that vegans are deprived has not been to the Lower East Side (or to pretty much any Indian or Chinese restaurant, for that matter), and whoever said vegans are all health-conscious and skinny is unaware that Oreos, Sour Patch Kids, and animal crackers, are vegan (not to mention about a gazillion other decadent treats – and I should know).
And then one day, I decided to make a change…
Flash forward to today:
(…or just skip ahead, for my professional bio…)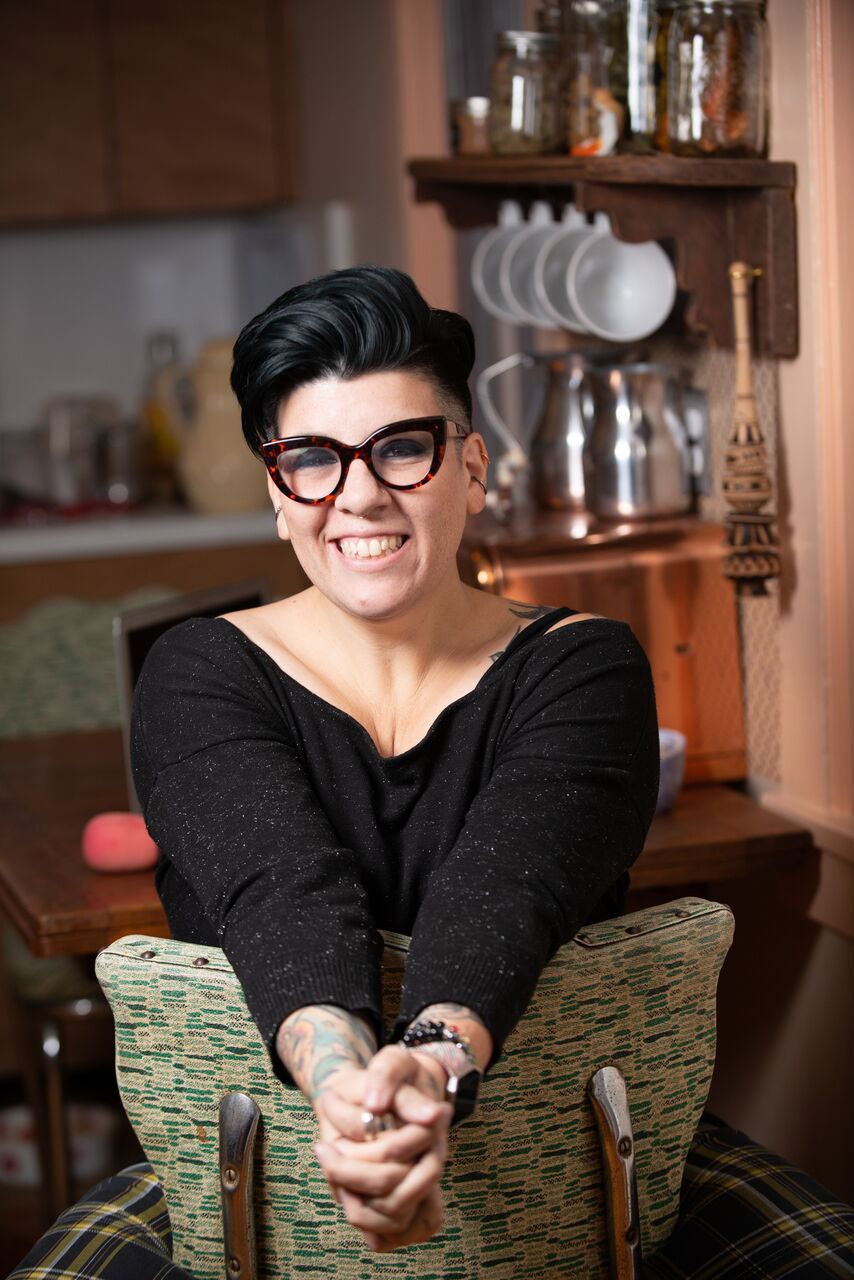 After living in New York City – the city of my childhood dreams – for 17 electric years, I moved to Los Angeles (though I still have a little bedroom at a friend's house in Brooklyn, so I over-eagerly consider myself bicoastal).
Always Too Much and Never Enough is my first book, though I've contributed to a handful of anthologies, and am now working on my second book – a vegan lifestyle guide – which will drop in December 2020 (Da Capo). The book is in collaboration with VegNews Magazine, where I was the Senior Editor and now spew off advice as the love columnist.
I am in disbelief that this book is mine, but I'm also in disbelief that my life is mine. Sometimes I think I'm still that fat kid eating her lunch by herself in the bathroom stall, but I guess everyone's childhood haunts them like this, at least sometimes.
Although it has been said — and it's entirely true — that I eat, sleep, and breathe animal rights (it's a social justice movement that matters to me more than I can express), I do manage to find time to watch Queer Eye, tap-dance (I've recently progressed from "Advanced Beginner" to "Slow Intermediate," which I keep reminding myself does-not-a-Ginger-Rogers-make), and go to the theatre (notice the obnoxious "r-then-e"). As I write this, I am also spending a fair amount of energy attempting to grow out my hair (after a botched dye job where it melted, I was forced to shave my head).
I'm passionate about social justice, animal liberation, vegan baked goods, finding the best black eyeliner on the market (not tested on animals, obviously), and squeezing my dog until she wiggles in an awkward attempt to make me let her go — I never will. I'm also a Scorpio, so beware.
Also, I have a lot of tattoos. And I will get more.
Now here's the professional stuff:
I am the co-host of the award-winning weekly Our Hen House podcast (going strong, every single week, since January, 2010) and even had a two-year stint co-hosting the Our Hen House TV show. If you're wondering, Our Hen House is a nonprofit multimedia hub working to change the world for animals, and I am its co-founder. I am a regular public speaker on the subjects of veganism and activism (don't miss my Tedx talk, "Compassion Unlocks Identity"), and travel throughout the country (and beyond) to give workshops and keynotes at venues such as conferences, Vegetarian Food Fests, law schools, and universities. My work has been featured in various mainstream media outlets, and I have extensive experience on both sides of the microphone. I am lucky to have an extremely devoted community of listeners and readers. We are bonded by our passion for changing the world for animals.
I have a bit of a background in healthcare – despite the fact that I myself didn't personally find good health until recently. I have a Masters in Experiential Health and Healing (The Graduate Institute), and a Holistic Health Certification from the Institute for Integrative Nutrition (certified by the American Association of Drugless Practitioners). (Since we're on the subject of higher education, I will mention that I have a BFA in Acting from Pace University. Which, I suppose, is neither here nor there.)
In 2004 – the year I became vegan – I split my time between auditioning and running a health and wellness coaching business called Jazz Singer Holistic, but soon left both in order to pursue my dream of working in animal rights. I proceeded to find a degree of success quickly – and, at 29, was recognized by VegNews Magazine as one of "20 Under 30 Standout Stars of the Animal Rights Movement." VegNews later named the organization that I head up with Mariann Sullivan, Our Hen House, the Indie Media Powerhouse, and we were also given the coveted title of Webby Award Honoree (in Radio & Podcasts – an honor we shared with heavyweights such as Scientific American, Canadian Broadcast Network, and Discovery) three times.
I have been interviewed as an expert for several books, including Main Street Vegan by Victoria Moran (Tarcher, 2012), and Living the Farm Sanctuary Life by Gene Baur and Gene Stone (Rodale, 2015). I have written for print magazines, including VegNews, Satya, and Heeb, as well as many dozens of blogs and online magazines, including the Huffington Post, Mind Body Green, Civil Eats, Crazy Sexy Life, and Elephant Journal. I have also been featured in the award-winning documentaries Vegucated and The Ghosts in Our Machine. I have appeared on The Dr. Oz Show, HuffPo Live, BK Live (which I've also hosted), and Jane UnChained.
In addition to Always Too Much and Never Enough, I have previously been published in anthologies including Defiant Daughters: 21 Women on Art, Animals, Activism, and the Sexual Politics of Meat (Lantern Books, 2013), Running Eating Thinking: A Vegan Anthology (Lantern Books, 2014), and Circles of Compassion: Essays Connecting Issues of Justice (Vegan Publishers, 2015).
I am currently writing my second book. (And I am also currently drinking coffee… I mean, odds are….)